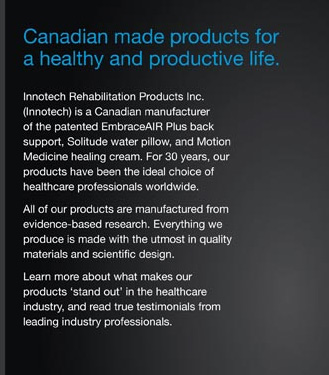 Innotech Rehabilitation Products Inc. (Innotech) is the Canadian innovator and manufacturer of the patented EmbraceAIRPlus back support and Motion Medicine  topical healing cream. For over 20 years, these products have been the choice of healthcare professionals worldwide for back and neck pain relief, rehabilitation and prevention.
Back Supports
Innotech back supports utilize an exclusive, patented design that allows each individual to custom-fit their level of support. A vertically adjustable and air adjustable chamber creates the ideal dynamic seating position for each individual. No other back support can prevent or relieve back pain as effectively. Additionally, all of their components are of top quality, including an exclusive fabric that is immune to fungus, bacteria, and odor, as well as foam engineered to last over 15 years, and an air valve system with a lifetime warranty.  There are over 30 parts that go into producing one hand crafted EmbraceAIRPlus!
Motion Medicine
Motion Medicine is a fantastic healing topical cream, acting as an anti-inflammatory, pain-relieving agent, muscle relaxant, and anti-oxidant. What makes Motion Medicine so effective compared with other healing creams is its inclusion of glucosamine, chondroitin, MSM, and other all-natural ingredients that promote tissue and cartilage repair. IT WORKS! Studies in the Journal of Rheumatology have shown clients experience complete relief of their chronic osteoarthritis pain within an 8 week period (Individual results may vary). While other products offer some of the ingredients Motion Medicine offers a full spectrum of natural actives that make this a complete and super effective formulation. 
Return Policy
Our return policy is that if you want to return your products within 90 days we will issue a full refund for the product less the cost of freight. It is the customer's responsibility to return product in original condition and pay return freight costs. This return policy covers products purchased from us directly or from authorized resellers.
About Your Order
You can place your order today ONLINE and it will be shipped promptly.
Innotech's  back supports, seating, and water pillows are packaged in tight-fitting bags and boxes, taking up minimal space when in storage. Motion Medicine can be shipped in point-of-purchase display boxes, making it easy to set-up, display, and keep organized. Innotech products are value priced, at or below cost of our competitors. You pay the same or less for the improved performance of Innotech Rehabilitation Products. 
We hope you enjoy browsing our site; learning how to combat pain; developing an increased awareness and expectation of performance from your healthcare devices; and most importantly… soothing, healing, and taking care of yourself.